Designed by the team at realworld, Real World Ready is a comprehensive program helping early-career new hires land on their feet in the working world. We'll walk you through the major decisions you'll experience when you get out there (in a way you can actually understand).
This self-paced, online program covers everything you need to know to understand a credit card offer and stay calm when someone says "401(k)". From employer paperwork to student loans, we've got your back!
Get prepared for when you're out there on your own with our help!
Here's what we cover
Personal finance
Health care
Living on your own
Student loans
Starting a new job
Year one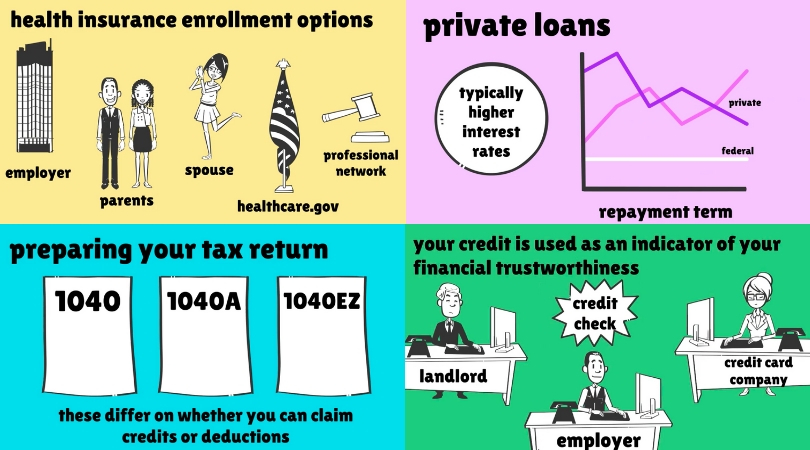 Your Instructor

realworld is the comprehensive solution to help young adults land on their feet in the working world and navigate the financial, health, and career decisions they will encounter in their first year out of school. Our educational programming, tools, and trusted resources help young adults thrive throughout the real world transition and beyond. Learn more at
www.realworldplaybook.com
.
Why we built this
At realworld, we get what you're going through because we've been there. We've made the mistakes so you don't have to, and we are on a mission to pay it forward to the next generation.
Let's be real: we've emailed the wrong Susan, worn jeans to a formal interview, forgotten to enroll in health insurance, and set off the fire alarm. The good news is, we survived - the great news is, with our help, you can thrive!
Real World Ready was designed using insights from over 1,000 college students, recent graduates, parents, and university stakeholders to educate and empower twenty-somethings to conquer the real world.
Frequently Asked Questions
How long does it take to complete the course?
About 3 hours to complete (trust us, it's worth it)!
Do I have to complete the entire course in one sitting?
Nope! Feel free to start and stop as often as you'd like.
What happens if I fail the quizzes?
Don't sweat it. The quizzes aren't graded and are meant to test your learning. If you find a topic quiz difficult, you may want to spend a little extra time there or check out additional resources on our sidekick site.
What's the deal with the "sidekick site" you mention throughout the course?
While learning about this stuff is helpful, in order to make smart decisions when you're out there, you need access to tools and trusted resources. So we've made it easy on you: in addition to our dynamic real world prep course, we've built a website filled with free resources waiting to help make the real world just a little bit easier. Check out our sidekick site at www.realworldplaybook.com.
How long do I have access to the course?
If you enroll on your own, you have six months to complete the course. If you receive access through your school, you'll typically be able to access the course during your senior year and three months after graduation. Believe us - sometimes you don't even realize what you don't know until you're out there, so we want to be there for you every step of the way!
I'm having trouble logging in…
What if I don't feel #realworldready after completing the course?
There is SO much to know about life in the real world that it's impossible to cram it all into a few hours. You can find additional real world tips, tricks, and tools on our resource site: www.realworldplaybook.com. If you still feel clueless, let us know what's missing - we're always building more content to better help our community. Send us your ideas and feedback at
[email protected]